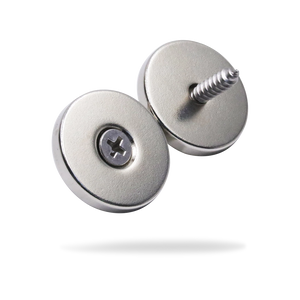 Worldwide
Shipping
30 Day Money
Back Guarantee
100% Secure
Checkout
Product Description
Hang your metal art with our super strong Magnetic Hanging Kit, which is designed to create a strong hook point on walls. Each Magnetic Hanging Kit is strong enough to hang any of our decor pieces.  Each magnet can support approximately a 26 lb vertical pull. These disc shaped magnets are perfect for hanging wall art and other DIY projects.  
Features
Each kit comes with a set of 2 magnets and 2 screws
Each magnet holds up to 12kg/26lbs
Easy installation - takes less than 2 minutes
LIFETIME WARRANTY
We take great pride in the quality our products. Our Limited Lifetime Warranty offers you peace of mind about your purchase. It reflects our confidence and the benefit of years of experience crafting premier home decor for our customers.
Fast Shipping
Shopping online shouldn't feel like waiting for a dentist appointment. Standard US shipping is 2-5 business days.
Custom Made
Customization! Every order is custom made to your exact specifications. Choose your design, pick your size, pick your color, personalize it and our factory will make it just for you!